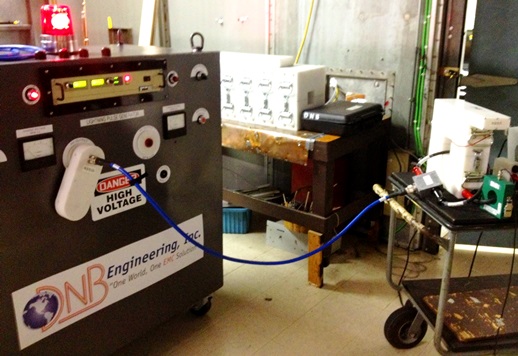 DNB Engineering Inc., a full service test lab and world leader and recognized expert in certification testing, recently fulfilled an elaborate request from the Naval Air Systems Command (NAVAIR) to design and build a high energy, indirect effects lightning generator to test the F-35, Joint Strike Fighter aircraft.
NAVAIR requested the indirect effects lightning expertise of DNB Engineering in their desire to run unique waveforms to test the F-35.With more than 25 years of indirect lightning test experience, DNB Engineering was capable of executing the challenging project. The entire completion of the generator, from initial design to the end of manufacturing, took DNB Engineering's team approximately three months.
"We're honored to be able to assist NAVAIR in building a high energy generator for testing the F-35, said Doug Broaddus, DNB Engineering Executive Vice President. "Working closely on projects with various branches of the military is something we at DNB Engineering pride ourselves in and this project is just another milestone in maintaining our worldwide leadership in lightning test capabilities."
The generator has been designed to produce high level, custom waveforms similar to the RTCA DO-160, Section 22 requirements. Waveforms 1-2 have a maximum output of 6kA and waveforms 4-5A have a maximum output of 21kA with this custom generator. Currently, DNB Engineering is the only test laboratory that has built this type of high energy generator.
For  more information about DNB Engineering
and our testing services, please call (714) 870-7781

Tweet This Post