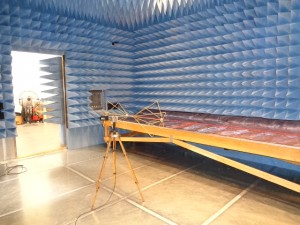 DNB Engineering is happy to announce that our new Chandler test facility is open for business and accepting RFQ's to start scheduling work.
The new 5,500 square foot building has two 20' x 23' chambers meeting the attenuation requirements of MIL-STD-461 and DO-160. The building also has one 29' x 23' mode tuned chamber (MTC) that will be used for susceptibility testing.
The end rooms are MIL-STD-461/DO-160 compliant semi-anechoic rooms
The middle room is a mode stirred/tuned Chamber (MTC).
We designed the MTC for 100W amplifiers to reach 200 V/m
The chamber will have 200 – 400 W amplifiers capable of reaching 200 V/m using spot-on illumination from 100 MHz – 18 GHz and higher fields in the MTC are expecting levels near 1000 V/m
Complete DO-160 test capability for Section 15 through 22 and 25
MIL-STD-461 capabilities
Power testing per Airbus, Boeing, Embraer, and Bombardier (Learjet) requirements.
We have also partnered with another local lab to offer environmental testing as well:

Vibration
Thermal
Acceleration up to 30,000 G's
Sand & Dust
Explosive decompression
Explosive atmosphere
Hydraulic testing
Thermal vacuum
Altitude testing
Fluid susceptibility
Drop shock test
DNB is fully staffed to provide customers with EMC (Electromagnetic Compatibility), Lightning (direct/indirect), HIRF, Environmental, Product Safety and Regulatory Testing. We now have 24 EMI test chambers available with facilities in Fullerton and Riverside, CA, Coalville, UT, and of course our new facility in Chandler, Arizona.
Please let us know if you would like a visit to discuss our offerings in more detail. You are more than welcome to visit the facility as well just let us know when you would like to come by and we will set up a tour for you.
The Chandler facility is at 10 Chandler Business Park located at 580 N. 54th St., Suite 4, Chandler, Arizona 85226.
The facility phone number is 480-405-6160 or you may contact Senior Sales Engineer, Gary Thompson, directly at 602-614-6093 or email: garyt@dnbenginc.com.
For more information about DNB Engineering visit our website at www.dnbenginc.com

Tweet This Post