DNB Engineering Inc. wishes United States Air Force a Very Happy 70th Birthday!
Thank you for all that you do for our country.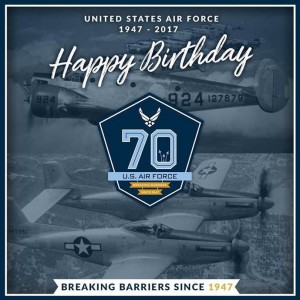 The USAF is the largest and one of the most technologically advanced air forces in the world. The mission of the United States Air Force is to fly, fight and win—in air, space and cyberspace.
As of 2017, the service operates more than 5,369 military aircraft. Combat aircraft, such as Fighter aircraft, Bomber aircraft, Attack aircraft, Electronic warfare aircraft, Maritime patrol aircraft, Multirole combat aircraft and non-combat aircraft, such as Military transport aircraft, Airborne early warning and control, Reconnaissance and surveillance aircraft and Experimental aircraft.
DNB Engineering Inc., as a world leader in EMC certified testing services, has been a part of just about every major Military program in the last 35 years. To learn more about DNB's service, programs and locations, please visit our website.

Tweet This Post